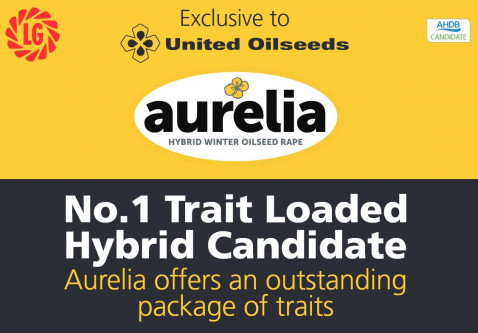 Posted: 22 Aug
Exclusive to United Oilseeds Download Data Sheet Here
AURELIA - Currently No.1 Trait-Loaded Hybrid in AHDB Harvest Trials 2019 for Mean Gross Output 2016-19 (see https://ahdb.org.uk/harvestresults)
Aurelia offers an outstanding package of key traits including; TuYV resistance, gene specific pod shatter resistance, RLM7 against stem canker, combined with extremely high yields. It is the highest yielding hybrid variety on the AHDB Candidate List 2019/20.
This superb variety sets a new benchmark for hybrid oilseed rape performance.
Highest UK Gross Output Hybrid Candidate (E/W G.O.110%)
Highest Agronomic Merit Rating of 41
Turnip Yellow Virus (TuYV) Resistant
Gene Specific Pod Shatter Resistance (POS
RLM7 Phoma Resistance
AHDB Recommended List
UK Hybrid Candidate 2019/20
Excellent Disease Resistance Package
AGRONOMIC MERIT - 41
Gross output, combined with a strong agronomic merit, provides farmers with the opportunity for maximum returns, whilst minimising risks.
If you are interested in this exciting new high-performance Candidate please contact your local United Oilseeds Area Manager, or call: 01380 729 200
Email:enquiries@unitedoilseeds.co.uk
www.unitedoilseeds.co.uk
LATEST NEWS
SELECT A CATEGORY