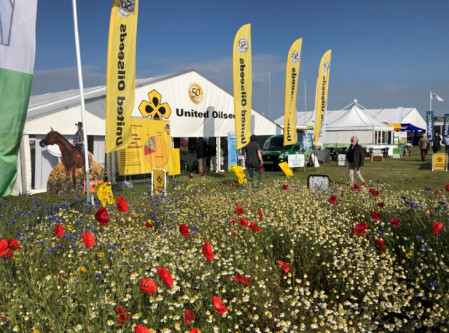 Posted: 6 Jun
Once again, the United Oilseeds team will be in full attendance at this year's Cereals show at the Thoresby Estate, Nottinghamshire for what is set to be a busy event.
Perhaps the major news this year is a changing of the guard as we say goodbye to Managing Director Chris Baldwin, who has dedicated the past 19 years to growing and developing the co-operative and has announced his retirement at the end of August.
With some rather large boots to fill, new Managing Director James Warner, who is currently working alongside Chris in a handover period, will also be on hand at the show to meet many of the contacts that Chris has developed over the past two decades, and to discuss his vision for the ongoing success of United Oilseeds.
Representatives from Hubbards Seeds will be on hand to discuss the huge potential under the Sustainable Farming Incentive (SFI) and Countryside Stewardship (CS) schemes for farmers looking to develop environmentally beneficial areas on the farm.
Also in attendance will be our knowledgeable trading team, all of our area managers, and many of the United Oilseeds Directors, all of whom will all be happy to share their experience and answer any questions you may have.
Features at the event include:
Solutions for both old and new crop
How to join one of the UK's most successful co-operatives
Pick up the latest edition of Growing Break Crops Publication (and earn BASIS point for reading it!)
HOLL and HEAR contracts and OSR Marketing Pools
+ Much more
LATEST NEWS
SELECT A CATEGORY