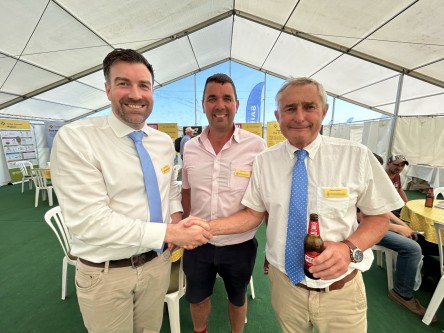 Posted: 31 Aug
Farewell to an industry stalwart and United Oilseeds star
Today sees the departure of long-standing United Oilseeds Managing Director Chris Baldwin, after almost 20 years of exceptional service to the long running farming cooperative. At the same time, the business officially sees new Managing Director James Warner take the helm after shadowing Chris for the past 3 months.
Chris joined United oilseeds back in 2004 having already been working in the industry for a number of years.
Speaking about his early days at United Oilseeds Chris said: "When I joined the cooperative, United Oilseeds was a little known, introverted company that tended to hide its light under a bushel. It had a turnover of £348,000 and a net worth of just £1.2 million."
The most recent figures highlight clearly what an impact Chris has made over the past 19 years. Turnover now stands at £217 million and net worth at £17.3 million.
"I think it is fair to say that during my tenure we have positioned United Oilseeds very well. We are widely known in our marketplace and last year sold 32% of the UKs certified rapeseed while trading, at last count, 28% of the UKs annual OSR crop." Added Chris.
Since working for the cooperative Chris has built up a reputation for liking a PowerPoint presentation. Giving his final presentation to staff Chris had calculated that based on an average 6 presentations a month over the 236 months he's been with United Oilseeds, he'd given at least 1416 presentations! (Although many staff think the figure is probably a lot higher).
Having steered the business to new heights and membership of 4,800 farmers over the past 19 years and 8 months, there were more than a few tears on Chris' final day. Even Chris, understandably, had a tear in his eye as he addressed staff at his farewell meal.
Presented with a book of memories, including anecdotes and stories from staff past and present and industry contacts, it truly was a moving moment. With staff chipping in for his retirement gift, Chris was presented with tickets to The Cheltenham Festival 2024 where he'll get to indulge one of his many passions for the day.
New Managing Director James Warner, who has spent the past 3 months working alongside Chris in a handover period, commented: "For the past two decades, through hard work and dedication, Chris has led United Oilseeds through a period of unparalleled success. His contribution to United Oilseeds and the wider industry has been nothing short of tremendous.
"All of our employees, the board and our farmer members are all extremely grateful for the unwavering commitment Chris has given to United Oilseeds and we all wish him the very best as he looks forward to his next adventure."
LATEST NEWS
SELECT A CATEGORY