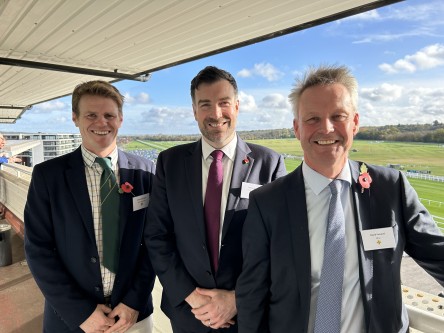 Posted: 10 Nov
Company Results Announced at Newbury Racecourse
Invited guests including press, trade contacts and growers converged at Newbury Racecourse recently to hear the latest results from break crop specialist and independent farmers' co-operative United Oilseeds. Vice President of the NFU David Exwood & Wye Valley Grower, Tractor cab singer and farming TV personality Ally Hunter Blair joined Managing Director James Warner (Pictured above) in presenting to guests on the day, all of which were very well received.
Full details of the announcements and the future outlook are provided below.
United Oilseeds has announced an increase in EBITDA of one-third, rising to £2,243,160 for the trading year ending 30th June 2023 from £1,675,552 the previous year.
The co-operative's annual turnover was down slightly, to £217,406,385, largely reflecting the decline in underlying commodity prices during the course of the year. It's net worth rose by 23%, to £17,399,217.
Speaking about the recent results, Managing Director Mr James Warner said "Considering the challenges the market has been facing, and following a period of unprecedented price volatility, we are proud to announce another set of extraordinary results for our members co-operative. During the 2022/23 campaign we managed to maintain our market-leading position in both UK Oilseed Rape crop marketing and our share of the UK's certified seed market, both of which remain at 30%."
"Our co-operative has benefited from the ongoing strategy to expand our presence in other break crops. We are now generating more revenue and margins from non-OSR commodities than ever before. This has helped our business to mitigate some of the well documented challenges that the UK industry is currently facing."
Total commodity tonnages traded by United Oilseeds were broadly unchanged year-on-year, at 415,964 tonnes, of which 23% (nearly 100,000 tonnes) was made up of non-OSR commodities – including Oats, Beans, Peas, Linseed & Hybrid Rye.
Last year, the farmer-owned co-operative announced a record profits redistribution payment to its trading members of £520,000, the highest in its 56-year history. "Once these results are audited and finalised, we expect to be able to make another record profit share payment later in the financial year" said Mr Warner.
A profit share payment to trading members for the 2022-23 financial year will be announced in December.
Harvest 2023
Based on data collected by United Oilseeds, national average OSR yields during the 2023 harvest came in at 3.1 t/ha, down on last year's bumper return of 3.7 t/ha, although only 5% lower than the 5-year average. This puts the total UK production figure down to 1.21 million tons, compared to 1.36 million tonnes last year.
Commenting on the 2023 harvest, Mr Warner said "Despite a damp and rather drawn out harvest, our team performed admirably, providing an exemplary service to our growers in need of quick movement at harvest time. Our strategically positioned storage network across the length and breadth of the country continues to support our member community. Particularly pleasing has been the fact that the challenges around haulage availability and a lack of lorry drivers that have plagued the industry in recent years, seem to have abated somewhat."
Seed Market Trends
Looking at seed market trends Mr Warner said: "Our financial success in FY2022/23 was in part due to last seasons big jump in rapeseed seed sales, fuelled by growers reacting to record high market prices, largely as a result of the Ukraine war.
"This planting season, there have been a number of headwinds facing OSR growers. Establishment setbacks, pest concerns, high input costs and significant funding changes which have given growers additional alternative revenue streams such as the SFI and CS scheme to name a couple. As a result, we have seen plantings for 2024 harvest drop compared with last year."
Overall, United Oilseeds OSR seed sales reduced by 14% year-on-year, to 93,265 hectares. After taking account of some re-drilled areas, United Oilseeds estimates that the UK rapeseed planted area has dropped to 354,000 hectares, a reduction of around 15% on what was planted the same time a year ago.
"The team have done a brilliant job at maintaining market share, in what has been a challenging season. We continue to have market leading varieties, with Aurelia continuing to be the number one choice amongst UK growers, commanding a dominant market share amongst the UK's hybrid market," added Mr Warner.
The market has continued to see similar trends as in recent years of moving away from conventional varieties and into Hybrids. The conventional certified seed market dropped by another 43% this year, to just shy of 45,000 hectares. Conventional varieties now make up just 22% of the market. Farm Saved Seed is also estimated to have dropped sharply this season, down by around 50%, to just 27,000 hectares.
UK Oilseed Production – Looking ahead to harvest 2024
Referring to the current growing season, Mr Warner said "It's been an incredibly challenging time for Oilseed Rape growers in the UK. Establishment issues, particularly due to Cabbage Stem Flea Beetle, followed by the terrible flooding we have seen across much of the East Coast, has meant the crop has got off to a tough start, with some inevitable losses along the way."
United Oilseeds estimate that 10-15% of the total UK planted area could already have been written off, leaving the area still viable at between 305,000-320,000 hectares. Assuming average yields, that could mean a crop below 1 million tonnes for only the second time this century.
"Despite the challenges growers face, there are a number of reasons to remain upbeat about future prospects for the OSR market in the UK. Domestic demand for rapeseed, and its products, remains robust, meaning we have ample existing demand to which to market our crops."
United Oilseeds forecasts that the UK will require close to 1 million tonnes of imported rapeseed during the 2024/25 marketing year in order to balance the UK supply and demand.
"The UK is a long way from being self-sufficient in OSR. With concerns around food security elevated since the start of the Ukraine war, there is without doubt a place in the market for home-produced vegetable oils. Furthermore, rapemeal is a wonderful protein source for our livestock industry. It is a home-grown replacement for soybean meal, without the associated deforestation risk, which may well hold increasing importance considering the upcoming implementation of the EUDR".
LATEST NEWS
SELECT A CATEGORY