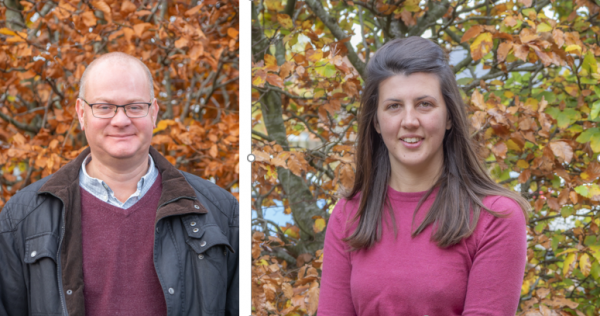 Posted: 17 Nov
United Oilseeds Expands Sales Force with Recruitment of Two New Area Managers
Break crop specialist and national independent farmers co-operative United Oilseeds, has expanded its sales team with the appointment of two new Area Managers, Ed Chudley and Becky Beesley. Both join the co-operative from Openfield.
Holding a degree in Agri-Food Business and Administration from Harper Adams University, Mr Chudley brings a wealth of experience to the position, having held management roles at Openfield since 2009 and procurement roles before that at Lloyd Maunder and Dunbia.
Mr Chudley will be focussing on United Oilseeds members and customers in the South West of England and their break crop seed and crop marketing requirements.
Ms Beesley has a degree In Animal science from the University of Reading and worked at Openfield from 2011, first as Farm Service Coordinator and, since 2013, as Farm Business Manager. Before that, Ms Beesley worked at Frontier Agriculture as a Seed Sampler and a Grain Analyst. Her role at United Oilseeds will be to serve the co-operative's membership and customer base throughout Hampshire and Wiltshire and to help grow the organisation's market share in the region.
"We are delighted to welcome two such experienced individuals to United Oilseeds and know that their extensive customer service and commercial expertise will prove invaluable to our co-operative's members and customers," said Chris Baldwin, United Oilseeds Managing Director.
"In addition to promoting our break crops and crop marketing services, Ed and Becky will be helping to further expand the continued growth of our fellow group company, Hubbards Seeds, and its portfolio of environmental, forage crop, cereal, maize and grass seed.
"As a farmers co-operative, United Oilseeds trades over 500,000 tonnes of break crops every year, including oilseed rape, oats, linseed, peas and beans. By recruiting two new Area Mangers to our team we are investing for the future and ensuring we continue to identify and deliver profitable commercial opportunities to our membership," he continued.
Both Mr Chudley and Ms Beesley join the United Oilseeds Cooperative on 17th November, 2020.
Note to Editors
Founded in 1966 and with 4,500 farmer members, United Oilseeds is owned entirely by its membership and is one of the UK's most successful agricultural
co-operatives. With the largest OSR tonnages under pool management in the UK, its marketing pools are continually the most successful in the country.
To the end of June 2019, the co-operative recorded profits of £1.5 million.and its net worth has grown to over £11 million. It has paid its trading farmer members £4.59m over the last 14 years in profit share.
-Ends-
Media Information:
Edward Meadows
Communications Manager
Tel: 01380 729200
E: edwardm@unitedoilseeds.co.uk www.unitedoilseeds.co.uk
LATEST NEWS
SELECT A CATEGORY