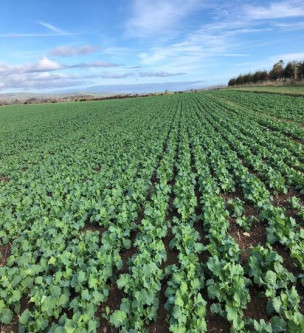 Posted: 12 Oct
Take Part in the NIAB TAG CSFB Survey - Closes End October
Since 2013 NIAB TAG has collected information from farmer volunteers on oilseed rape establishment, especially Cabbage Stem Flea Beetle damage. For the first time last year NIAB TAG linked this to monitoring of the csfb invasion. This year, we are looking for more volunteers to help as NIAB TAG is working in collaboration with ADAS, Rothamsted Research and Harper Adams University, funded by Defra and AHDB. This new three-year cross industry consortium gives us a unique opportunity to make rapid progress in our understanding of csfb and develop robust tools to help OSR decision-making for the future.
NIAB's "Crowd Sourced Farmer Assessment" for one month only in October is open to all so please get involved.
The Survey is collecting information on how crops are responding to this year's establishment conditions and csfb. An interim report will be produced in January 2021 to summarise the data by crop type, region, and establishment techniques.
Click here to go to the App, which includes clear instructions on taking the Survey and uploading images, alongside questions on farm type and OSR establishment this year. https://new.maptionnaire.com/q/82wx28v9mrf3
NIAB as interested in failures as successes. There is more information on the project and how to become involved in hosting and designing on-farm trials and monitoring. For example, we would like to return in the spring to find out how the crops have fared into stem extension.
Thank you for your help,
LATEST NEWS
SELECT A CATEGORY