Posted: 16 Oct
By Beckii Gibbs, Seed Manager, United Oilseeds
NIAB TAG is asking all farmers to put information relating to their own experiences of Cabbage Stem Flea Beetle activity this year, into a special online survey (at https://app.maptionnaire.com/en/4861).
The survey aims to monitor the spread and intensity of flea battle infestation throughout the UK and improve understanding of damage levels and their potential relationship to variety type, sowing date, establishment methods and insecticide applications. NIAB is also asking farmers who believe they are outside the flea beetle infestation area to provide input, as their information will be of equal importance to the study.
Flea beetle has proved particularly problematic this autumn, with infestation levels and geographical distribution worse than those experienced last year.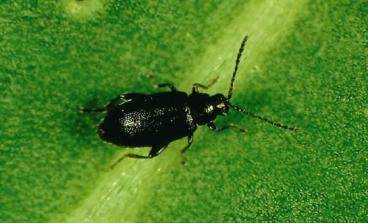 With high flea beetle pressure reported as far west as Wiltshire, the problem has been exacerbated by the weather. A long drought has prevented seedlings from obtaining enough moisture to develop sufficient vigour to grow way from the flea beetle threat successfully.
Further, the uninterrupted warm and dry weather has also resulted in little respite from continued flea beetle attack, as the settled conditions have enabled the insects to feed on newly emerging crops without interruption.
In some cases, the dearth of sufficient moisture has even meant some seed has failed to germinate in the ground.
From its own research, United Oilseeds estimates the UK's planted area of winter OSR this autumn is 562,000 hectares. But CSFB and recent weather conditions are certain to impact the eventual size of the crop and we will have to wait until the spring before we can accurately gauge how much oilseed rape has been lost.
Neonicotinoid treatments had always proved largely effective in controlling the pest, but today, farmers are faced with little choice other than to deploy pyrethroid sprays - which themselves only provide limited protection, as some flea beetles have built up resistance to the chemical ingredients.
There are some products in the pipeline that may help alleviate the problem for farmers once introduced and available, such as Lumiposa, but any new product is likely to only lessen flea beetle pressure, rather than erase it completely.
Oilseed rape is not the cheapest crop to grow, but, when the market is strong and yields good, it offers growers very healthy gross margins, sometimes greater than even first wheat. It is therefore not surprising that, despite the frustrations, it is always the first-choice break crop to grow for farmers across the country.
With the challenge posed by flea beetle seemingly growing rather than decreasing, it is essential that we obtain as clear a picture as possible of the extent and nature of the flea beetle challenge nationwide. Data, as with many other issues, will prove to be one of the most effective drivers in helping to identify an eventual solution to the problem.
With that in mind, please help by visiting the NIAB TAG survey online and completing the survey. The survey will close to new entries on 5 December 2018. Please see instructions below.
Survey Instructions: Got to https://app.maptionnaire.com/en/4861 In this new survey format you are asked to zoom into the map and locate coloured response pins on your fields/farm and answer the brief survey. As soon as you have entered your data the map will come to life with all the pins entered up to that point and you can re-visit to see how the picture evolves as often as you like. You can even re-visit and edit your own entries, if you think that your crops have picked up or gone downhill significantly as the 2-month reporting period progresses.
The background survey asks for drilling date and whether this is a first drilling or a re-drilling. It also asks for variety type, whether you have used a companion crop or not, what cultivations you have used and how many insecticides you have applied. As a new feature, there is a comments box where you can share other information on the crop situation at your site.
Members of NIAB TAG will receive a copy of the final report. If you are not a member but would like a copy of the report at the end of the survey period, please email the NIAB TAG Membership Office ([email protected]) with the subject "CSFB report request". For information on how NIAB uses your data, please see its Privacy Policy at www.niab.com.
-Ends-
If you are a Member of United Oilseeds you can register for access to the Members Portal on our website and see your contract loads anaylses data online. Click here and follow the instructions.
LATEST NEWS
SELECT A CATEGORY